June 17, 2018 11:42 pm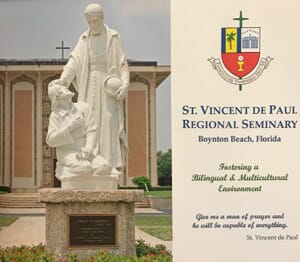 I (Kari Colella) was honored to serve as a Spiritual Director for a 7-day retreat for Seminary Formators at St. Vincent de Paul Seminary in Boynton Beach, FL.
The Seminary Formation Council has developed a two-year "Certificate in Seminary Formation for Missionary Discipleship" for those who serve in diocesan seminary formation, especially in the external forum: formation advisors, teaching faculty, administrative faculty, and vocation directors. They include an annual retreat opportunity for those in the Certificate Program. For more information on the program, please visit: www.seminaryformation.org.
I was honored to be invited to serve as a Spiritual Director for the retreat and am honored to be invited back to serve again in 2019.
Please keep our seminaries (students and formators) in your prayers. Please also keep this program, that seeks to form the formators, in your prayers.
Tags:
Spirituality